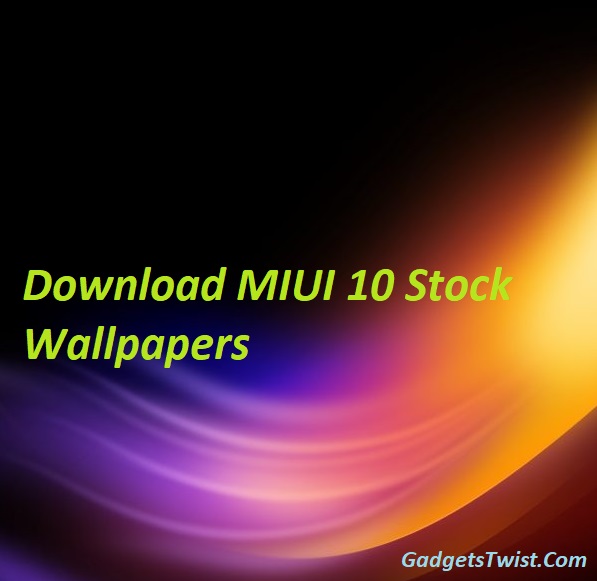 MIUI developers Team has already started testing it's next version of MIUI OS, known as MIUI 10. The MIUI 10 first released for Xiaomi Mi 8 and now the company is expanding it's support for other variants. Fortunately we have managed to download the MIUI 10 stock Full HD wallpapers with resolution of 1080 x 2160 Pixels, these wallpapers are extracted from the system dump of MIUI 10. Just read more to download the MIUI 10 stock wallpapers.
MIUI 10 is finally announced by Xiaomi today, the new MIUI Skin is based on Android P but mostly it will be available for Android Oreo devices as well. The MIUI is a custom skin that Xiaomi phones come with, the MIUI 10 brings multiple visual changes in the OS. The two major features that MIUI 10 comes with are, Portrait AI and Preload AI.
Portrait AI feature allows you to take portrait images even with a single camera devices, that's because the company has embedded AI support that blurs the background and focus on the target. On the other hand Pre-load AI lets you load the frequent using apps quickly, because MIUI 10 will already pre-load the app based on the user's usage patterns and daily routine.
Like always Xiaomi is influenced by iOS and brings flat, minimal, and colorful UI in MIUI 10. Just read the instructions below to download MIUI 10 stock wallpapers for any Android device.
Download MIUI 10 Stock Wallpapers
In this guide, you'll be able to download all the latest MIUI 10 stock Wallpapers. The Wallpaper's app in MIUI 10 comes with a total of 5 official pre-loaded stock wallpapers. Great news is that all the wallpapers are in 1080 x 2160 Pixels Full HD resolution, grab all of them right away.
Here is a preview of official MIUI 10 Stock Wallpapers
Download the MIUI 10 Wallpapers:
Download MIUI 10 Default Stock Wallpapers. Google Drive
If you wish to change wallpapers automatically after some time then here is the guide for you.
So there you got complete collection of MIUI 10 Stock Wallpapers, if you like my work share this guide with your friends and other, cheers!