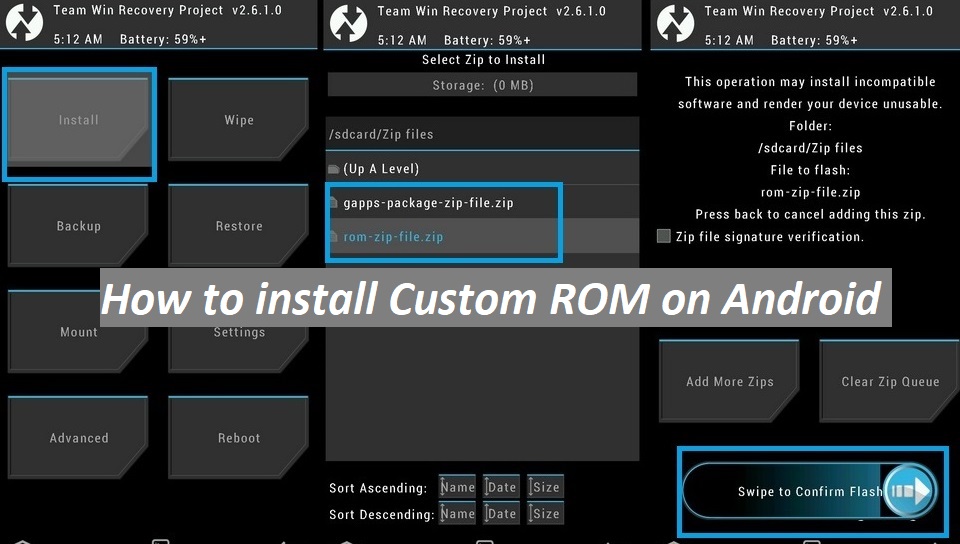 If you want to flash/install custom ROM on your Android device but don't exactly know the process to install it, then this guide is for you. Just follow the instructions to install custom ROM on your Android like LinageOS, CyanogenMod, Resurrection Remix, CRDroid, OmniROM and others. The process to flash any custom ROM on any Android device is mostly the same but if you are a newbie then you need to pay attention on each step to install custom ROM on your Android device.
Custom ROMS are the third party firmware mostly comes with stock Android UI, so if you want to switch from TouchWiz based ROM to Stock Android UI, then flashing custom ROM on your device is a best option. I am also a big fan stock Android UI and mostly use Motorola devices for just to get the taste the of Stock Android UI. So without wasting more time lets take you directly to the process, where you will find each and every thing you need to flash custom ROM on your device smoothly.
How To Install Custom ROM on Android 2022
Before you start:
Download the custom ROM zip and move it on the storage of your device. (Link is available on the referrer post)
Also download and move the Google apps zip file on the storage of your device. (You must find it on the previous post)
Charge your device up to 50% for safe installation.
Process to install Custom ROM on your Android device 2022
Step 1: Turn Off your device completely.
Step 2: Now boot it into recovery mode, if you own a Samsung device check our guide to see, how to enter recovery mode | For any other Android device download the Quickbot app from Google Play and then choose the reboot recovery option from there.
Step 3: Once your device is in recovery mode, we recommend you to make a Nandroid backup of existing ROM to do so, Tap on Backup option and check the System, Data and Boot option and then swipe from left to right to confirm backup process.
Step 4: Once the backup process is done, tap on 'Wipe' and then swipe to Factory reset.
Step 5: Now Tap install and choose the custom ROM zip file and then swipe to confirm the installation process.
Step 6: After that install Google Apps(gapps) for the custom ROM on your device. (repeat step 5)
Step 7: Once done with the flashing process, simply reboot your device.
Note: The first boot process may take up to 5 minutes, because things will be getting settle to run custom ROM on your device for the first device.
That's it! You have successfully installed custom ROM on your device, if you have any query or facing any issue feel free to contact us.