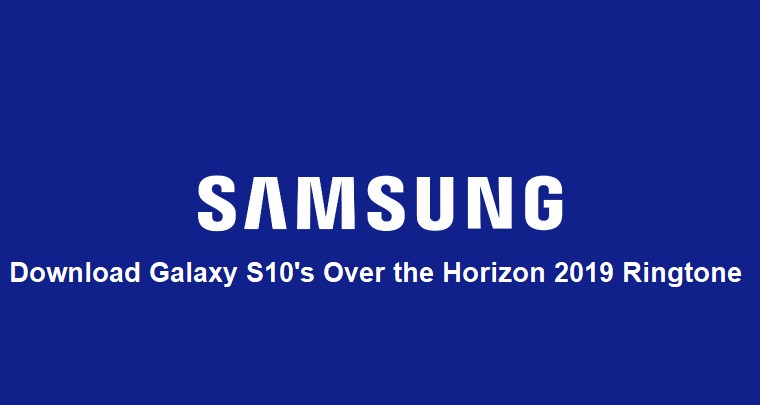 Finally it's here, new year, new flagship and new re-imagined Over The Horizon ringtone. Samsung has published the latest version of it's popular Over the Horizon ringtone that will be shipped with the latest Galaxy S10 lineup. Just continue reading the article to download stock Galaxy S10 Over the Horizon 2019 default ringtones and notification tones in .mp3 format. The Galaxy S10/S10 Plus Stock Ringtones pack includes, Ringtones, notification tones and UI tones.
Galaxy S10 / S10 Plus official Stock Ringtones/Notification tones – Over the Horizon ringtone 2019
Samsung has made the Over the Horizon ringtone as default tone which first came out in 2011. In the past 10 years Samsung has kept updating this popular ringtone each year along with with it's new flagships. This year Samsung is celebrating it's 10th anniversary and presented the all new Samsung S10's Over the Horizon 2019 default ringtone. The tone expresses deeper message and feels so touchy, inspired by the beauty of oceans and it's marine life. As the company puts it, the new tune evokes "the seas' vast scale and indescribable majesty through a combination of soothing synthesizers, strings and woodwinds."
The video from the ringtone was filmed at Sipadan Island in Malaysia by by acclaimed nature filmmakers James Brickell and Simon Enderby. The video portrays the Ai Futaki who is a renowned conservationist and Guinness World Record-holding free diver. The Over the Horizon 2019 Galaxy S10 Stock ringtone was composed by Academy Award-winning composer Steven Price at London's Abbey Road Studios. We have shared the link to watch the video as well as download link to download Over the Horizon 2019 ringtone from Galaxy S10/S10 Plus.
Download Galaxy S10 Plus Stock Ringtones and notification tones "Over the Horizon 2019"
Download Over the Horizon 2019 MP3.
Download Galaxy S10 Stock Ringtones pack
Recommended for you:
OnePlus 6T Mclaren Edition Ringtones
Want more? just visit our Stock Ringtones category to grab more ringtones.