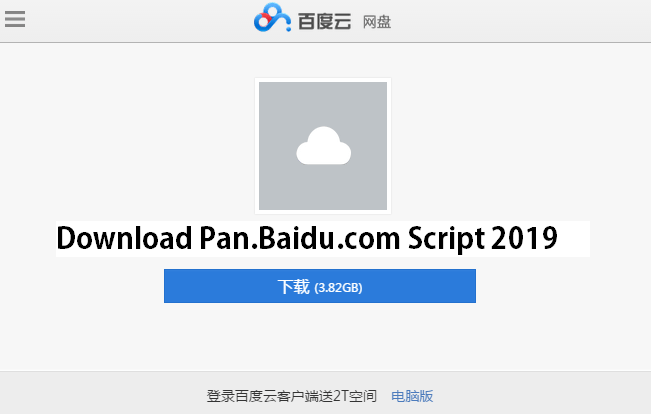 Are you looking for the latest pan.baidu.com downloader scirpt to download files from baidu.com? If yes, then we are here to help you on that. Finally the Pan.baidu.com script 2022 is here to Download files from pan.baidu.com. This is so far the best pan.baidu.com script to download files from Baidu website without packet loss at stable high speed and resume-able option. Just continue to section below to read more details and to download Pan.baidu.com 2022 script to download files from pan.baidu.com.
Great thing about this new 2022 Pan.baidu.com script is that it supports IDM and download accelerators as well. It's needless to mentioned that pan.baidu.com a type of Chinese cloud drive for Chinese users. Just like Google Drive it also offers you free 2 GB space to share files images videos.
Another problem with the Chinese servers is that when you try to download files from outside China you can't get high speed download but thanks to this latest pan.baidu downloader script now you can access to heavier downloads without restriction at full speed.
Requirements for installing the script:
Your system must be running Chrome Browser or Mozilla FireFox Browser.

Need IDM for downloads.

Download Tampermonkey Extension.
Before you begin:
Download and install the Tampermonkey Extension on your internet browser.

Download Tampermonkey extension for Chrome. Here you go
Download Tampermonkey extension for Firefox.  Here you go

Install pan.baidu.com script.
Script files:
Download pan.baidu.com script:
Download limit remover
How to use Pan.baidu.com script to download files from pan.baidu.com
Once done with above preparation and pre-requisites.
If you are logged in at Baidu account then first you need to log out of your account because the script is designed to work in logged out status.

Now head to the file you want to download from pan.baidu.com link and click download.

You will notice the download will start instantly with the best possible speed and resume-able link.
That's it! That was all about the process to use Pan.baidu.com script to download files from pan.baidu.com. Stay tuned for more updates!