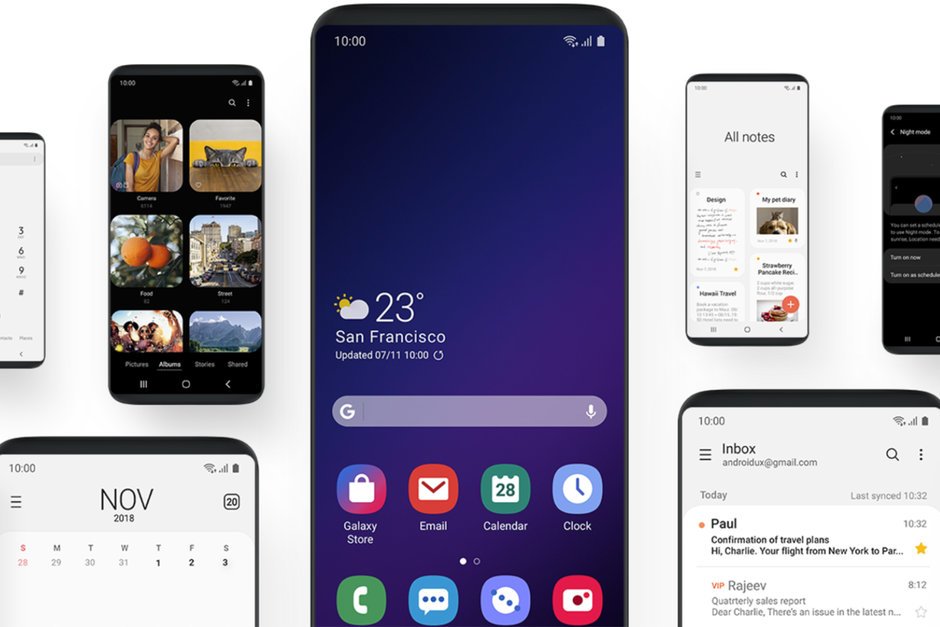 Download Samsung Galaxy S10/S10 Plus stock Launcher APK: Samsung 2019 flagship is doing pretty good, the device comes with top of the line hardware, latest Android Pie OS with the Samsung own customized skin, known as Samsung One UI. The all new interface comes with revamped settings and features, the Galaxy S10 launcher has been redesigned too with new icons, color and features. Once you install the Galaxy S10 stock launcher on your device, you'll be able to access the goodies of One UI on your device, just continue reading the guide to read more about One UI and to download Galaxy S10 stock launcher apk for Android. 
Galaxy S10 launcher One UI details:
Unlike Experience 10 the latest Samsung One UI aims to make it easier to use smartphones with bigger displays. Since modern smartphones come with bigger displays which has now become a trend, but on the other side it is getting more difficult to use them one-handed. So Samsung has come up with the new idea to handle such situation by sifting the interaction area on the bottom of the device. The One UI divides the screen into two half, the upper half is the viewing area and the lower half is the interaction area.
Most of the options are shifted down compared to the traditional TouchWiz or Experience 10 layout, for instance, in the notification panel, the top part of the screen shows only the date and the time, the brightness adjuster is now at the bottom, If you go to Settings and slide down, the panel will shift down so you can reach the top options. Same goes for the system apps too, you can view notification in the upper half which is the viewing area and interact with them in the lower half(interaction area). If you want to get the Samsung S10 launcher APK for your device just head to the section below to install the S10 official launcher apk and install it manually.
Download Samsung Galaxy S10 stock Launcher APK for Android
Grab the apk from the link below and flash it manually on your device by following the instructions.
If you have downloaded the apk file via PC then connect your device to PC and move it to phone. (Skip this step if you have already downloaded it on your device).
Now open Settings > Security > check the Unknown Sources option.
Now go back to app drawer and any file manager app, browse the earlier copied the apk and tap to install it right away.
Once done, just press Home button and the device will ask you to choose the launcher of your choice as one time or always.
You may also like:
OnePlus 6T Mclaren Edition launcher
Download Samsung One UI Launcher APK
That's it! If you like our work, please share it with your friends and stay tuned for more.