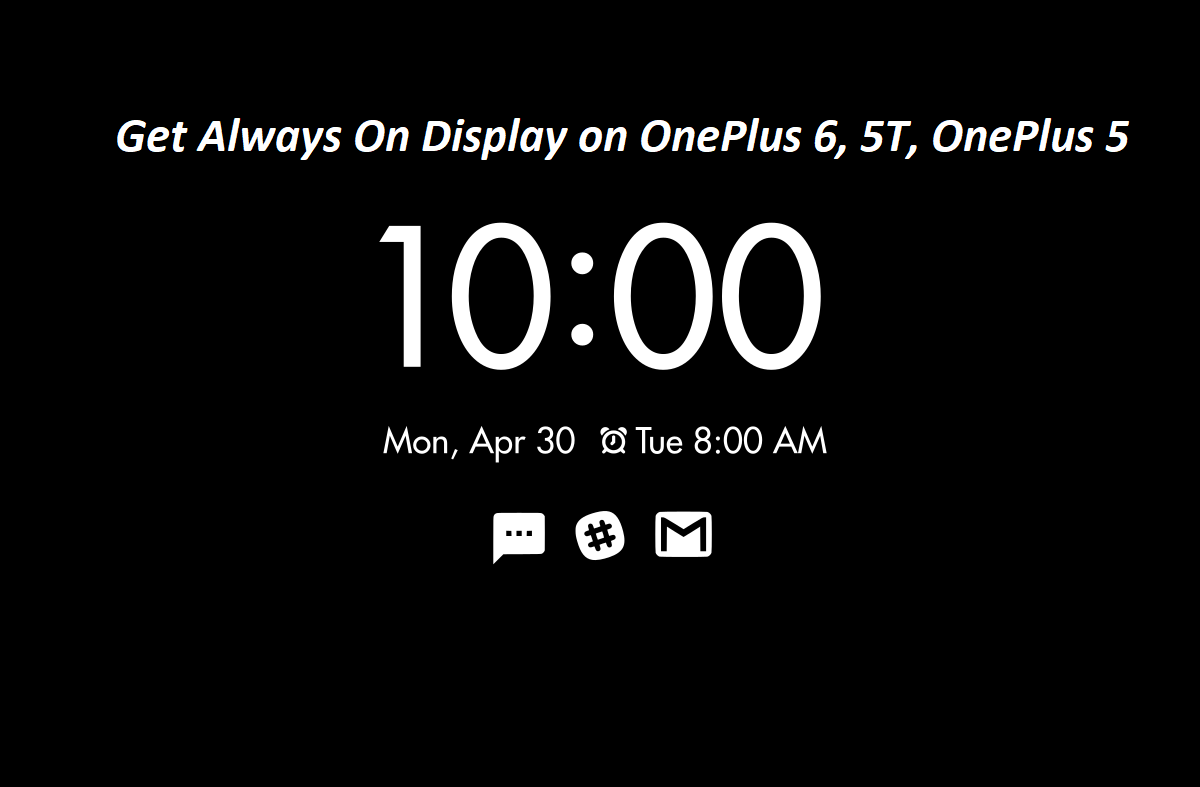 In this guide we'll show you how to enable Always On Display on OnePlus 6, OnePlus 5T and Oneplus 5T. This popular feature was recently removed from OnePlus 6, but now we are going to get it back unofficially.
OnePlus 6 was recently launched a few days back in an event held at London. OnePlus 6 the true flagship killer, being a 2018 flagship, the company has adapted modern trends like bezel less style with a notched display. The company has made huge changes and improvements in both software and hardware department which make this device a true flagship killer. While the all new OnePlus 6 is impeccable, but the company has disabled a very basic but a very useful feature everyone would have loved, guess what is it? It is the Always On Display.
The Always On Display lets you keep track on multiple things including date, time, message notification, call and app notifications while the phone is in standby mode placed on any flat surface. This feature was introduced for AMOLED display and popular OEM like Samsung, Google and Motorola are still using this feature in their display. If you are own a OnePlus 6, OnePlus 5 or OnePlus 5T then we are about to guide you on how to enable Always On Display on your device. Although this is not an official way to enable it but still it's awesome and works like a charm.
Reason for Removal of AOD from OnePlus 6
The Always On Display was first seen on the OnePlus 6 but the toggle was grey out that enable this feature. At that time it was initially speculated that a next firmware update will enable this feature but the company has decided something else and the upcoming OTA completely removed the features. The major sources confirmed that the company has removed the feature citing the affected battery consumption as the reason. User have shown mix thoughts about this decision some of the them who were used to this feature previously were keen to get this feature back while some of them don't even care about it.
If you are also one of the those users who want to get the feature back, then we have this quick solution that will let you enable Always-On Display on OnePlus 6 and OnePlus 5/5T.
How to get Always On Display on OnePlus 6 and OnePlus 5/5T
The Always On Display will work on rooted devices because a senior member 'saccentekennedy' at XDA has came up with a new Mgisk Module that will let you enable the 'Always On Display' on OnePlus 6, OnePlus 5 and OnePlus 5T.
Requirements:
Your device must be rooted to get this feature enabled on your device. Follow the guide to root it right away
Make a backup of your device if your device is running TWRP custom recovery then follow this guide to create the Nandroid backup.
Process to Enable Always On Display on OnePlus 6, OnePlus 5 and OnePlus 5T
Download the OP5_AOD_Enabler.zip Magisk module and transfer the zip file to the phone's storage by connecting your device to PC via USB.
Now Open App drawer and open Magisk Manager.
On the top-left, tap on the 3 horizontal lines (menu bar).
Install Magisk Module to Enable Always On Display on OnePlus 6
Tap on 'Modules' and press the circular '+' yellow button located at the bottom.
Navigate and choose the module ZIP file 'OP5_AOD_Enabler.zip' you have copied earlier.
Wait for the installation to complete.
Once the installation process is completed, reboot your device.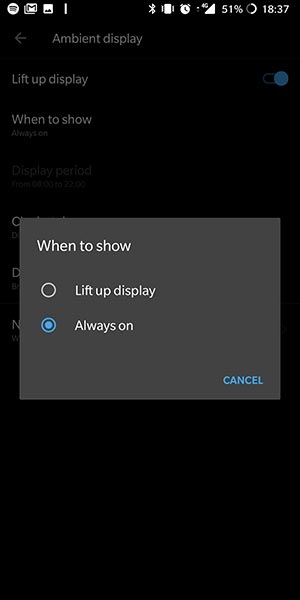 After the reboot, go to Settings > Display > Ambient Display and turn on the 'Lift up display' toggle. Choose Always on from the options.
That's it! We hope you have successfully enabled Always On Display on OnePlus 6, OnePlus 5 and OnePlus 5T. Stay tuned for more updates and don't forget to share this guide with others.